A
BOUT

R

OSIE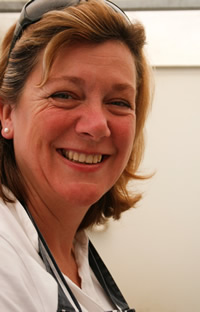 Rosie grew up in South Devon living and working on the family-owned and run country house hotel and farm between Totnes and Torquay. Well before British food refound its culinary confidence, the Westons had been renowned for producing a hearty family welcome to their guests, serving delicious fare in a delightful Devon setting.
After leaving school Rosie trained at the South Devon College within the Hotel & Catering Department for 2 years on the professional chef's course. She then gained local experience before moving to London in the late 1980s to develop further skills with outside catering firm.

After spending the 1990s in London, running the private dining rooms of an exclusive art gallery in the West End and having the opportunity of entertaining and dining many high-profile clients, and later, working and travelling throughout Europe, South Africa, Australia and South-East Asia, Rosie was able to adapt her solid foundation in creating delicious food out of the best ingredients and classic techniques to a more modern, lighter approach reflecting our new found culinary globetrotting curiosity.
Rosie feels that whilst it is great that so much interest has been sparked in the food world in Britain, and in British cuisine, there is too much hype combined with hyped up prices. 'Good food stems from good ingredients, great complementary flavours and sound techniques at prices accessible to anyone who values a really good meal. But, be it simple or sophisticated, if the chef hasn't mastered some simple essentials, the whole experience can be a disappointment, be it a boiled egg and buttered soldiers or a Michelin starred gastronomic extravaganza'.
'When you come from somewhere as beautiful as South Devon', says Rosie, 'there comes a time when you can't help but come back to your roots'. With all that Rosie has acquired from her time away from the county as well as her solid family training and experience from the hotel days, she creates, out of nothing more than a simple trailer, in the grounds of Sharpham Estate overlooking the River Dart Estuary, and the Estate's herds of grazing Channel Island Cows and  growing vines in the fields below, nothing short of culinary magic. The Vineyard Cafe has been running now for 5 seasons and is growing from strength to strength with a mostly local and loyal clientele. 'it's been a challenge that I have loved so far and I do hope to be able to build more and more on our success', says Rosie, 'though, never has, I would hope, the notion of hard work ever appeared as a chore'.
'The food at the Vineyard Cafe speaks for itself' Rosie believes, 'With our menus of real food at real prices, lovingly prepared and changing on a daily basis; with vegetables, salads, eggs, meat and award-winning cheeses sourced right on our doorstep from the estate,  complemented by fish straight from Torbay and the South Hams,  partnering our outstanding range of estate grown wines, and rounded off with our own hand baked desserts and cakes, it would be hard to go wrong...', Created  by Rosie, reflecting the region's culinary traditions but with a modern fresh twist, the food, along with her team's savoir-faire and panache,  their casual and warm, but nothing less than professional service and the amazingly beautiful location, leads a great lunch, afternoon tea or evening function to lend itself to a truly Devonian but also unique dining experience.
Despite the fickleness of an English summer, and the limits of working  partly outside or inside a small 'magic box' of a trailer, Rosie's vision of simple but flavoursome and above all, real, food shines through whatever the weather.
In 2012 Rosie obtained the Good Food Guide Alfresco Restaurant of the year but is now no longer at The Vineyard Cafe which she created in 2005.